 Be Here. Be You. Be In Community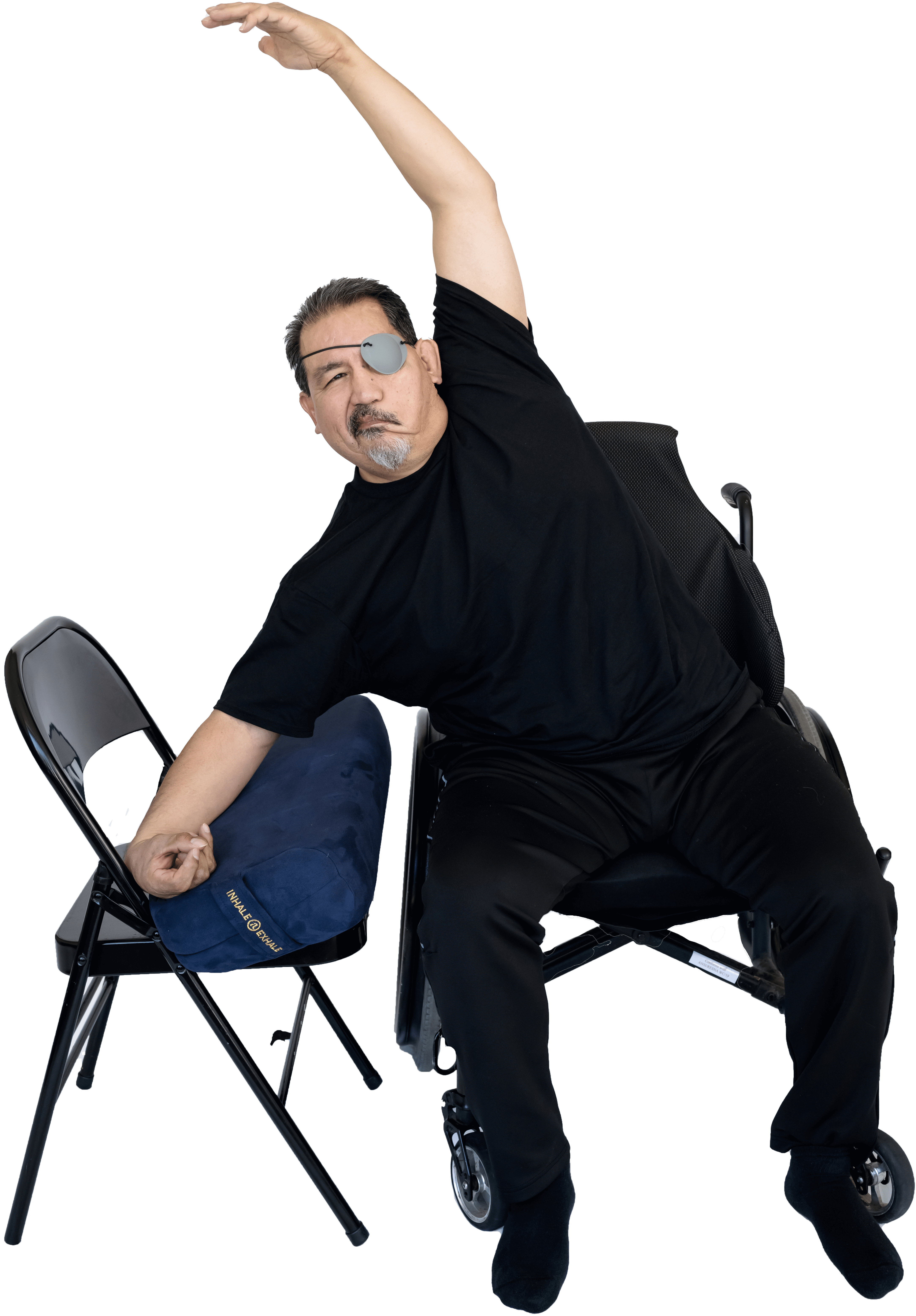 Ableism is a problem that our community faces every day. It has a detrimental effect on people with disabilities and is now considered to be a human rights issue by the World Health Organization. Ableism, like racism and sexism, is discrimination and prejudice against people with disabilities. Beyond the physical or mental challenges the disabled face, they also have to confront the societal standards and pressures which exclude them or tell them they need to be "fixed."
Read More
Exclusion can be seen in an inaccessible world that has three layers of barriers that are attitudinal (harmful stereotypes), environmental (physical structures), and institutional (laws and policies). Due to attitudinal discrimination issues, they face social challenges such as isolation of being ignored or excluded, and some people with disabilities have expressed feeling invisible.
Research has shown that trauma causes the body to produce adrenaline and cortisol, changing a person's brain structure, and contributing to long-term physical and behavioral health problems.
Poverty compounds these traumas. One third of the disabled community lives in poverty. This isn't a new problem either as the disabled have been in poverty throughout history.
These are the problems we want to address at Guided By Humanity. We believe in CONNECTION over PERFECTION. We're here to welcome the members of our community as they are and support the individual needs so they can find the right supports for their needs.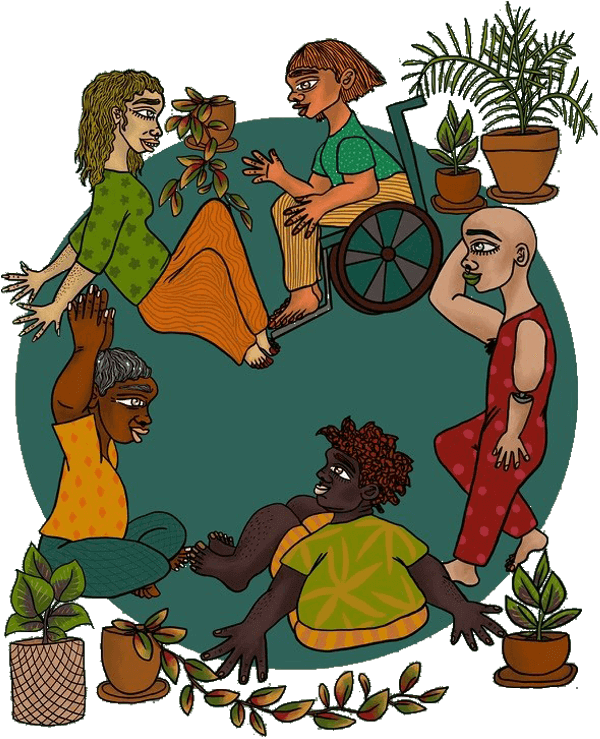 Guided By Humanity is a 501(c)(3) organization. We are a community focused non-profit organization filling in the gap by offering inclusive, accessible, and equitable yoga and wellness services for everybody and everyability.
Providing inclusive and equitable health and wellness services for people living with disabilities, seen and unseen.
Cultivating Healthy and Compassionate Communities.
Equity. Health. Compassion.
Mary Medellin Sims
Founder / Executive Director
She/Her
Mary Medellin Sims is deeply passionate and committed to health equity and social justice. She believes that ALL human beings deserve equal access to health. Mary has two decades of experience working with individuals with Intellectual and/or Developmental Disabilities in various capacities from direct care, administration, supervision, advocacy and natural support. With her passion and service in mind, Guided by Humanity was formed in 2017.
Read More
Mary also serves on the Board of Directors for 'The Wayfaring Band', 'Accessible Yoga', and 'Sana Yoga'. She is an experienced 500 HR Registered Yoga Teacher with a Bachelors of Art degree and additional certifications in Yoga Therapy for Grief, Adaptive Yoga, Accessible Yoga, Yoga for the Special Child, Trauma-Informed Yoga, Restorative and Yin Yoga. Mary is an experienced home healthcare provider and trained nurse assistant. Her compassion and competence allow her to meet individuals where they are while supporting their goals for growth and healing.
Certifications and Trainings for Mary:
BA in Sociology from Midwestern State University
Crisis Intervention
Adaptive Yoga
Yoga for Amputees,
Accessible Yoga,
Yin and Restorative Yoga,
Yoga Therapy for Grief.
All Abilities Yoga
Avanza CNA Program
Contact: Mary@guidedbyhumanity.org
Rachel Kaplan
GBH Program Manager
She/Her
Rachel Kaplan was a disability advocate for 14 years before she became a yoga teacher. She came to yoga to improve her own mental and physical health and felt moved to share the benefits with other people, especially people who, like her clients, had gone through many challenges and were trying to find peace amidst stressful situations.
Read More
Rachel works with kids and adults and specializes in making movement and meditation accessible for every body and every ability. She is a birth doula who teaches prenatal and postnatal yoga. She is an End of Life doula who offers bedside yoga as well as Mindful Grief Support. She is certified in the Neurosequential Model of Reflection Supervision, a trauma-informed approach to effective communication, reflection and problem solving. Rachel teaches Adaptive Yoga for folks with spinal cord injuries, TBI, and other medical conditions that limit mobility. She teaches Yoga for Amputees and specializes in movement practices that support strength and healing. She is also a licensed Certified Nurse Assistant who can help students with new or chronic medical considerations find a movement and meditation practice that works with their medical treatment plan, while also offering non-medical support in their homes. Through the Guided By Humanity All Abilities Yoga and Peer to Peer training program, Rachel teaches and mentors students experiencing Intellectual and/or Developmental Disabilities. She uses all of her skills to offer safe, engaging and sustainable ways for people to find the benefits of yoga and mindfulness. Rachel believes that there is beauty and meaning at every stage of life and that together we can find wholeness in body, mind, and spirit." Certifications and Trainings for Rachel include:
Adaptive Yoga
Yoga for Amputees,
Accessible Yoga
Power Vinyasa Yoga
End of Life and Bedside Yoga
Prenatal and Postnatal Yoga
Yin and Restorative Yoga
Yoga Therapy for Grief
All Abilities Yoga
Birth Doula
End of Life Doula
Neurosequential Model of Reflection Supervision
Avanza CNA program
Contact:
Rachel@guidedbyhumanity.org
Kathleen Martins
Community Outreach Coordinator
She/Her
Kathleen Martins is bilingual and speaks fluent Portuguese. She holds a Master's in Clinical Rehabilitation Counseling, 200-hour Registered Yoga Teacher, and Accessible Yoga certified. She is passionate about supporting individuals to live fulfilling lives. She specializes in sensory and motor disorders and enjoys finding ways for individuals to complete daily living tasks despite challenges they may face.
Read More
Yoga and self-care have become a huge part of her life, she found how meaningful it is not only in her life but also how it has been helpful to those around her. She believes that variations and assistance are not signs of weakness but a sign of strength in knowing your body. Her goal is to help others continue to learn about themselves on and off the mat. Kathleen has taught a variety of individuals including children and adults with Intellectual and/ or Developmental disabilities. When she sees someone, she doesn't see them for their limitations but for their abilities. Certifications and Trainings for Kathleen:
Masters Degree in Clinical Rehabilitation Counseling,
Social Emotional yoga training with Breathe for Change
Accessible Yoga Certified
Yin and Restorative Trained
Contact:
ksmartins10@gmail.com
Enrique Elizondo is bilingual and speaks fluent Spanish. He has more than 24 years of experience in the construction industry. His professional life has always focused on the development and improvement of others with a strong focus on small businesses and non-profit organizations.
Read More
He holds a BSBA from Denver University and an MBA from Regis University. Elizondo has always been credited for being open to multiple perspectives and being able to see the larger picture, while focusing on the details involved. Elizondo is currently the president of the HCC Contractor Academy Board of Directors, on the fund advisory board for Latino Community Foundation of Colorado (LCFC) and was the president of the Hispanic Contractors of Colorado for years 2019 and 2020. He continues his stewardship by mentoring small businesses in all capacities.
Deidre Rodriguez is the Staff VP, Privacy and Compliance at Anthem, Inc. She has worked in the healthcare industry for over 20 years. She believes that mindfulness and yoga are a key to creating a healthy mind, body and spiritual connection.
Read More
She has been a yoga practitioner for over 10 years. Deidre has completed her Yoga Teacher training in 2017, as well as courses in Prenatal, Yin, and Restorative yoga.
Contact
:
deidre.rodriguez@anthem.com
Tyler Wesley was born and raised in Denver, Colorado. When he was 15 he was involved in a roll over car accident at the end of his sophomore year of high school that resulted in a spinal cord injury. He broke his C-4 vertebrae in his neck and became paralyzed from the shoulders down.
Read More
His life would forever change in just a matter of seconds and his dreams would turn more into a nightmare than a virtual reality of becoming that professional soccer player he had always dreamed of as a kid. The doctors said he would never walk or talk again, but he ignored them because he knew that he would one day. Tyler currently works for a home health agency, Pasco Home Health as an Outreach Coordinator.
Practicing since 2000 and teaching since 2008, yoga has been a formative element for me throughout my entire adult life. With a background in birth work, I first began the art of adapting yoga for unique bodies through teaching prenatal yoga.
Read More
Then I began learning with adaptive yoga pioneer Matthew Sanford and after seeing the beauty of yoga moving through the minds and bodies of people with disabilities, my heart was forever dedicated to it. It is my passion and honor to teach adaptive yoga as well as workshops for yoga teachers to help expand the accessibility of adaptive yoga in Denver and beyond.
April invites everyone to find truth in feeling, and not become too involved with any stories attached. It is my mission to assist others in enabling the full release of human possibility. I help people remember their innate wisdom and knowledge already present in all of us. 
Read More
The experiences I curate include sensory immersion, sound meditations, yoga and music instruction, nutrition, and all things wellness. I am also part of two music projects: Nothing is Everything, and the entanglements.I have been a musician for 17 years, with a Bachelors in Flute Performance at Northern Arizona University and Masters at Longy School of Music. I am a 200 hour Registered Yoga Alliance Certified instructor, through Mudra Yoga Studio. I also love to articulate feelings through writing, dancing ecstatically, conquering mountains, living freely and dynamically, spending quality time, dressing up, going on treasure hunts for food, van parts, hot springs, ancient instruments, and thrifty items! One day, I realized all my interests lead to the same work: to find our true, Authentic selves. May we live unencumbered by convention, with passion and compassion, and redesign ourselves every day. Most importantly, my work is to help you breathe easier and not take it all too seriously!
Nicole is bilingual and speaks fluent Spanish. finds meaning in her work when she can support people in making purposeful and intentional change in their lives. She has her 200 hr yoga teacher certification and has been practicing yoga for nearly 20 years.
Read More
She started yoga by going to community classes with her Mom in Boulder, CO, where she grew up. She is the mother to an incredibly funny and wise 13 year old, who has Autism. She believes that yoga has the power to bring much needed play and rest into our lives, and she is honored to be able to be a guide for those who are called to share in this experience with her.
GC is from Lima, Peru and is fluent in Spanish. She is our resident Zumba Instructor with over 17 years of experience in Zumba.
Amelia is a movement professional originally from Colorado. They attained their Bachelor's degree in Contemporary Dance with a minor in Psychology in Montreal, Quebec. They are passionate about the healing potential that movement can bring to any being
Read More
Their experience consists of creating movement art and being a performance artist, often incorporating their somatic-based movement practice with their vocal/musical background. Moving forward, they are excited about constructing a practice that combines the mindfulness, spiritual aspects of Yoga with their creative, explorative practice of dance. At the core of Amelia'a mission is encouraging group and personal empowerment while inviting connection and community to flourish.
Jocelyn is part of our Peer to Peer Apprenticeship program and our Peace & Humanity Smoothie Bus staff. She is also known as our Smoothie Bus Queen. In her spare time, she creates graphic art with Access Gallery and travels throughout the year with The Wayfaring Band.
Read More
You will find Jocelyn facilitating our Peer to Peer program and slinging smoothies on our Peace & Humanity Smoothie Bus throughout the year.
Bella is a part of our Peer to Peer All Abilities Apprenticeship program. She is also currently a Fitness Captain with Special Olympics Colorado and works part time at The Roost Co-Op.. Bella believes All Abilities Yoga is important because it's important to include others.
Read More
"I've been in situations where I've felt left out because of my disability and Special Olympics and Guided By Humanity want everyone to be included," said Bella. "All Abilities Yoga is important because you can move your body in a way that is comfortable to you and you can be with other people like you." Favorite quote: " Yes I can ! yes we will."
Rossi found the joys of practicing Yoga when Yoga found her as a teenager back when she was only 17 years old in her home country of Bulgaria. Practicing on and off for years did not seem enough, and Rossi`s path took her to her first vinyasa yoga teacher training in 2014.
Read More
Rossi continuously studies the roots and traditions of this practice as she truly believes in the benefits of this well rounded practice including all the eight limbs that Patanjali describes in the Yoga Sutras.
In Rossi`s class, you can expect to hold poses, work your physical alignment through alertness without tension, as well as create space for relaxation without dullness, laugh, create an intention, or learn a fun story from an old myth!
Brittany is a part of our Peer to Peer apprenticeship program. She is also a master at beads and art with Access Gallery. Brittany offers Peer to Peer facilitation with kindness , softness, and inclusivity where everybody is welcome. You might find Brittany facilitating our Peer to Peer program or perhaps at her Mindfulness Arts & Rock class offering.
Shawn is part of our Peer to Peer apprenticeship program and a barista at Jack's in Arvada. Shawn says "I've worked there for many years, and I love my job. My coworkers are my family. I am proud of myself for learning to be a barista. Being a barista is my favorite job ever – I love making coffee and my customers love my lattes.
Read More
I also love yoga and I want to be a real yoga instructor. I started watching yoga videos a long time ago and I loved it – it helps me relax. I get to go to yoga with a day program and I've now been working with GBH to be a Peer to Peer All Abilities Yoga teacher and I can't wait." "My favorite quote is "Always be kind and practice yoga with your mind, body and spirit."
Obie is part of our Peace & Humanity Smoothie Bus staff and expert at our core smoothie, the Green Eyed Lady. He is a fun loving addition to our Smoothie Bus staff. You will find him on the Peace & Humanity Smoothie Bus slinging smoothies and dancing in his cowboy boots behind the scenes.